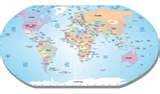 We have just begun our social studies unit on maps and map skills.
The students will explore many different types of maps and learn that all maps have five things in common:
a title, labels, a key, a scale and a compass.
They will make a compass rose, and do a variety of map activities.
We will learn about where we are in the universe - from the solar system, down to our own town.
They will learn how to use a map, and make one of their own, and they will practice labeling the continents and oceans of the world.
There is so much to learn about the world we live in, and maps give us one way to do that.